MAA cares for works of art and artefacts from Asia, Africa, Oceania and native America, and those representing British and European folklore. Among the museum's most famous collections are those deriving from the voyages of Captain Cook to the Pacific in the 1770s. The museum's founding curator, Anatole von Hügel spent several years in Fiji and assembled the single most important collection of nineteenth-century Fijian art outside Fiji itself, and went on to be highly energetic, soliciting collections and donations from fieldworkers and travellers in many parts of the world. Major field collections include those made by Alfred Haddon during the 1898 Cambridge expedition to the Torres Strait, by Northcote W. Thomas from Nigeria and Sierra Leone, by Charles Hose from Sarawak, by Gregory Bateson from the Sepik River, Papua New Guinea, and by Christoph von Furer-Haimendorf from the Nagas.
A view into the Maudslay Gallery which displays World Cultures collections, from the Andrews Gallery
---
The staff working in the Anthropology section of the museum are:
Dr Anita Herle, Senior Curator
Dr Mark Elliott, Senior Curator
Rachel Hand, Collections Manager for Anthropology
Benjamina Dadzie, Collections Assistant
---
Contact the Anthropology Team
If you have questions about the Anthropology collections at MAA, please contact the Collections Manager, Rachel Hand.
---
Detail of leather necklace from Sierra Leone, collected in 1914 by Northcote Thomas. The charms are attached to a length of black braided leather cord with red leather knots at the end for securing around the neck.  The contents of the charms are unknown.
MAA Z 14531. Photography by George Agbo.
---
Explore the World Cultures archive...
---
Explore the hub for the Fiji Chiefs and Governors exhibition and research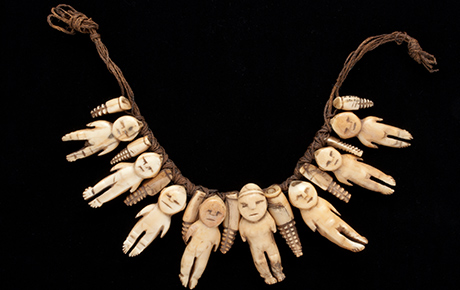 Explore part of the extraordinary collection of Northcote Whitridge Thomas (1868-1936), which encompasses over 2000 objects and historical photographs from Nigeria and Sierra Leone. The pieces you can see here were accumulated during Thomas' fieldwork in Edo State, Nigeria during 1909-1913.