Pacific Currents showcases MAA's exceptional and wide-ranging Oceanic collections, which originate from throughout the Pacific and date from the late 18th Century to the present day. Unlike previous displays which were organized according to country of origin, this re-display highlights the dynamic nature of communities, while acknowledging people's close attachment to and knowledge of local environments.
The displays are based on two core themes that will enable MAA to connect collections throughout the Museum with topics of relevance and concern to local, national and international audiences.
---
Exchange, Movement & Migration...
introduces the Polynesian notion of our 'Our Sea of Islands', first proposed by the Tongan scholar Epeli Hau'ofa.  The world's largest ocean provides waterways that connect Islands. The objects on display emphasize the movement of people, skills and ideas in particular regions and throughout the Pacific and beyond.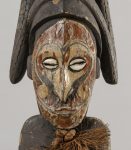 Detail of a gable ornament. Lewis Yarme and Albert Lumutbange, 2000.
Papua New Guinea, Middle Sepik region, Kanganamun village, Iatmul people. Collected by Andrew Moutu. 2002.86
---
Environmental & Cultural Sustainability...
underlines people's close relationship with the sea and their natural environment. Pacific peoples are especially vulnerable to the threats of climate change, water pollution and the destruction of coral reefs.Drawing on customary knowledge and adaptingnew materials and forms, the contemporary artworks on display – such as the Torres Strait ghost net sculptures made from abandoned plastic fishing nets – foreground cultural resilience in a fragile world.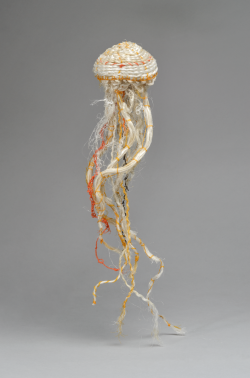 'Jelly Fish Jack'. Lavinia Ketchell, 2016. Ghost net sculpture made of re-claimed plastic fishing nets. Erub Island, Torres Strait Australia. 2017.56
---
The Museum's collections originate from many different sources and types of encounters. Through European explorations, colonialism, Christian conversion and anthropological research, objects have been exchanged, gifted, commissioned and sometimes stolen. Pacific Currents aims to be open and reflexive about the complex histories and legacies of the objects on display. The detailed information provided through the object captions enables the telling of multiple stories that can be used to develop different pathways through the displays.  The layout and cases have been designed to facilitate the rotation of new objects and information.
The displays draw on extensive collaborative research for over a decade, supported by major grants from the Arts and Humanities Research Council and the European Research Council, including 'Artefacts of Encounter' (2010 – 2013) and 'Pacific Presences' (2013 – 2018) led by Nicholas Thomas, and the 'Fijian Art Project' (2011-2014) led by Steven Hooper in collaboration with Anita Herle at MAA. Museum staff and project researchers have worked with communities in the Pacific and numerous Pacific Islanders and specialists have come to MAA to study the collections.
Pacific Currents in Cambridge
The re-display of the Pacific collections is part of a larger 'Pacific Currents in Cambridge' Outreach Project. In addition to extending partnerships with schools and community groups such as Arts and Minds, Young Carers and ChYpPS, (Cambridge City Council's Children and Young People's Participation Service), Pacific Currents provides an opportunity to develop new and innovative outreach resources and activities in Cambridge and the region, launching a new Museum Bike for city events and reaching new partners in the Fens.
At the Private View for the new displays on 5 July 2018 MAA was honoured by a powerful ceremonial welcome and blessing by Otene Hopa, Ray Wen and David Jones, members of Ngāti Rānana(the London Maori Club). Guests were also treated to a performance of Kiribati dance with Krista Dixon and Chloe Karea.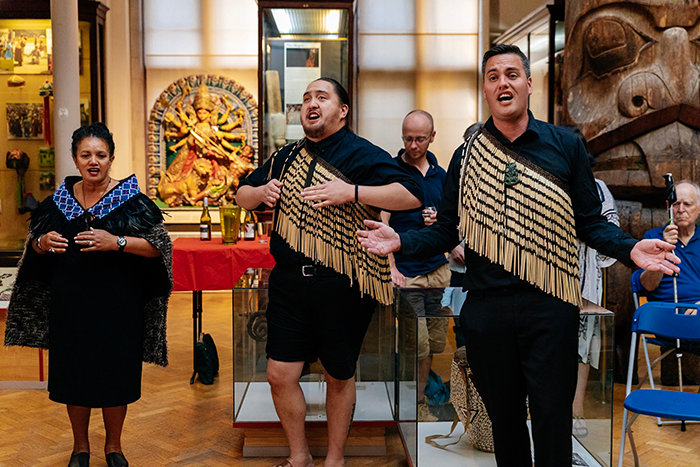 Ceremonial welcome and blessing for Pacific Currents with members of Ngati Ranana, (l-r) Ray Wen, Otena Hopa and Ray and David Jones. Photo: Josh Murfitt, 5 July 2018.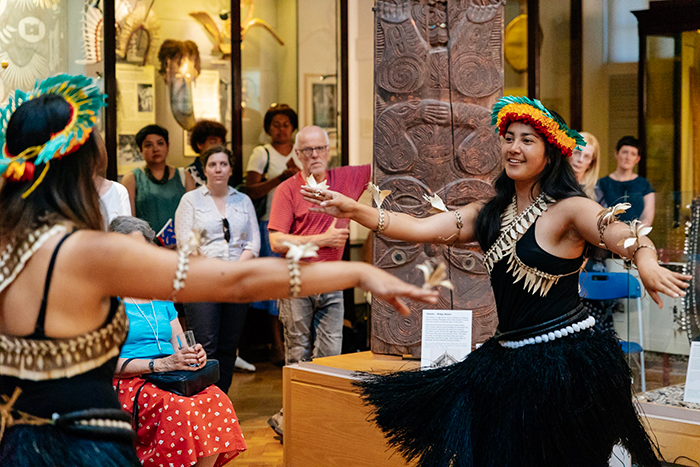 Kiribati Dancers Krista Dixon and Chloe Karea at the Private View. Photo: Josh Murfitt, 5 July 2018
---
Acknowledgements
MAA is extremely grateful to the many Pacific people who over the years have been extremely generous with their knowledge and time.
Numerous Research Associates have contributed to our knowledge of the collections:  in particular Lucie Carreau, Ali Clark, Erna Lilje, and Katrina Igglesden have been directly involved in the creation of the new displays through research and collecting. External researchers have also provided advice and assistance including Harry Beran, Heather Donaghue, Haidy Geismar, Kirk Huffman, Sergio Jarillo de la Torre, Andrew Moutu, Anthony Pickles, Kat Szabo, and Marilyn Strathern. Particular thanks are due to Stephen Hooper who generously contributed his time and expertise throughout the Project.
Various Pacific artists have also contributed directly to the new displays, including Lynette Griffiths and the Erub Art Centre in the Torres Strait; Chris Charteris, and Lizzy Leckie, Kaetaeta Watson; Lisa Reihana; George Nuku; and Ana Lavekau – Creative Director of London Pacific Fashion Week. Pacific Currentsalso showcases contemporary artworks from Papua New Guinea, including painting and sculptures by Simon Gende, Paul Kalubaku, Isaac Saluwai, Lewis Yarme and Albert Lumutbange, as well as artist Sue Pearson from Norfolk Island and Richard Abong from Vanuatu.
The displays also include recent donations from Enid and Gerry Burman, Celia Haddon, Katrina Igglesden, Natan Itonga and Nick Stanley.
Deborah Wickham designed the information panels with flair and patience. AIan Bolton and Adrian Newman generously assisted with technical aspects of graphics and printing.
Staff across the Museum contributed to the Project. Pacific Currents was curated and designed by Anita Herle with the assistance of Rachel Hand. Remke van de Velden was the Project Assistant (Collections). Jocelyne Dudding provided curatorial support for the photographic collections and created the slide shows on display. Conservation was overseen by Kirstie Williams with the support of Christina Rozeik. They were assisted by Rebeca Suarez-Ferreira, who's undertaking a Phd on the Ethnography of Conservation from Durham University, and Dipika Nadkarni, who focused her attention on a fragile spider-web mask from Malakula, as part of her work-experience project for the final year of her Conservation Masters at Durham University; Technical support was provided by Matt Buckley, Mark Hazelgrove and Bob Bourne. Josh Murfitt was responsible for photography.  
The Museum's Outreach Organiser, Sarah Jane Harknett and Project Assistant (Learning) Jenny Williams provided base-line evaluation and input into the creation of the new displays and are leading various associated outreach and educational activities. Karen Thomas has assisted with extending MAA's reach through Centre 33 to Ely, March and Milton. Helen Harwood, a teacher from the Grove Primary School, has encouraged her students to make costumes for the local Arbury festival based on the ghost net sculptures from Torres Strait.  Numerous people provided advice and support when developing the Outreach component of the Project including  Liz Hide, Kate Ress, Miranda Stearn and Carol Wendling.  
The Front of House team led by Kate Phizacklea assisted with the Private View and other related events and have been working as Explainers for the Museum's public audiences. Wendy Brown, Claire Cole and Melanie Hugow provided invaluable administrative support.
Numerous students and volunteers also assisted with the Project, including Daniel Stern and the MPhil Students taking the Museum option in Social Anthropology – Sylvia Ngo, Anastasia Ulturgasheva and Javier Ruiz.
Pacific Currents is funded by the Heritage Lottery Fund. Additional support was provided by the DCMS/Wolfson Gallery Improvement Fund. MAA greatly benefits from overall support from the Arts Council England as part of the University of Cambridge Museums consortium.