---
Various individuals influenced the Egyptian collections here at MAA. There are some very unusual characters – like the banjo playing Lady Meux – and there are some more reserved antiquarians and entrepreneurial collectors. They all, however, contributed to what we now see in the museum in one way or another.
  Steatite discs from New Kingdom Egypt (MAA 1948.2799 A and B),
  collected by Joseph Acworth
---
RePresent, by Danika Parikh, Korantema Anyimadu and Tara Okeke (11 November 2020)
The RePresent Project, led by researcher Danika Parikh, aims to bring the voices of historically excluded communities into museums. This year, the project worked with the Cambridge African Network and MAA to bring the voices of people of African descent into the museum's galleries.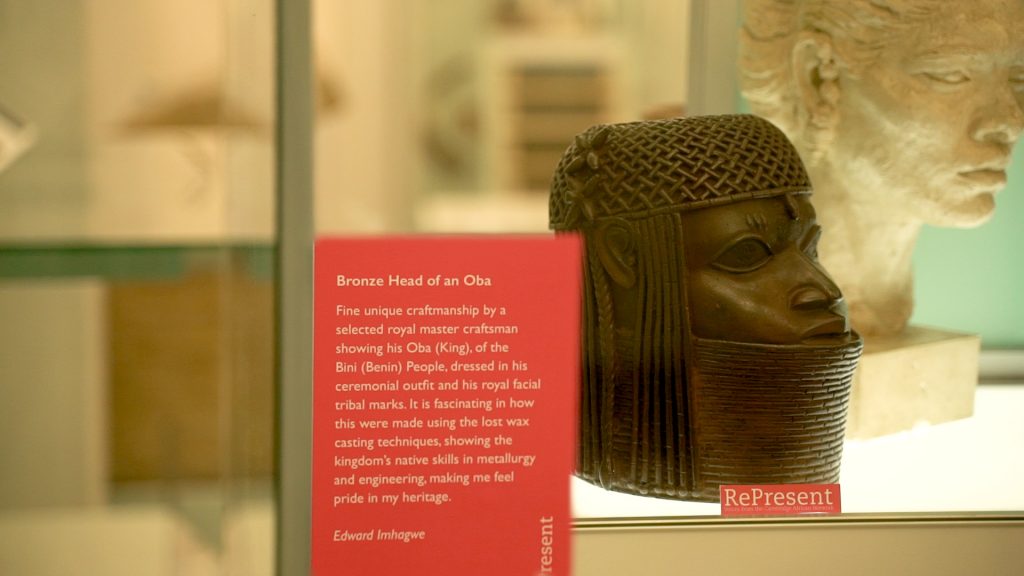 A RePresent intervention label on display
    describing the bronze head of an Oba at MAA.
    18th /19th century. Benin City, Edo State, Nigeria.
     MAA E 1902.95.
---
On 19 March, the University of Cambridge Museums and Botanic Garden closed to the public following Government advice. This week, we will be fully or partially open again across all sites for the first time in over six months. This post describes some of the activity we have delivered in that time, how we continued to serve our audiences, and some of our learning from a challenging 2020 so far.
---
Museum Remix: Unheard, by Hannah Price and Jenny Bull (12 October 2020)
The University of Cambridge Museums' Museum Remix programme has been welcoming fresh perspectives onto our collections since 2018.
   The 2019 Museum Remix Team
   gathered outside MAA
---
Fourteen objects held at MAA and originating from the First Nations people of the Northwest Coast of North America were analysed as part of a PhD research project by Lenore Thompson.
   Large human mask painted and with strips of leather and copper applique.
   The eyes rotate and have black eyeballs on one side, and red with copper
   bands on the other. Mid-19th Century. Fort Simpson, British Columbia,
   Canada. MAA 1885.66.7.
---
We have been working with Arts and Minds since 2015, delivering sessions for their Arts on Prescription courses and providing spaces for the groups to meet in.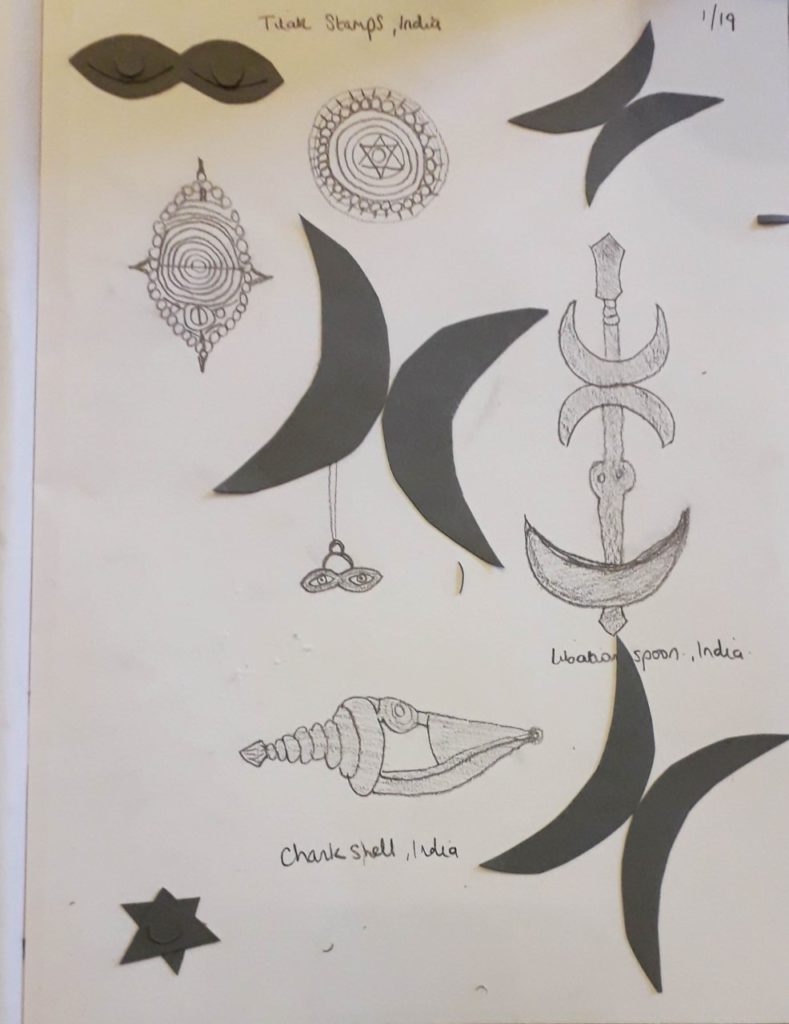 ---
In January 2020 a group of Maasai activists and cultural spiritual leaders from Kenya and Tanzania were hosted in Cambridge by MAA during a two-week visit to museums in Oxford and London.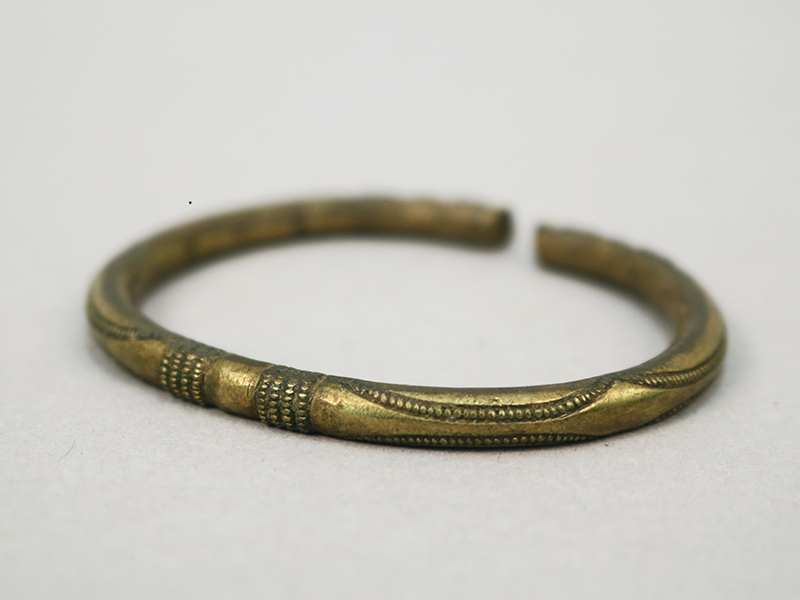 Orkatar: Man's armlet. Maasai. Tanzania or Kenya.
    Divination in 2020 found that this armlet was taken
    from a man who was murdered while tending his cattle.
    Donated by Sir Frederick Jackson. MAA, 1921.942 D
---
One of the things I love about working with collections is how much I end up learning not just about the collection itself but also about the world.

    Forehead ornament made from polished Nautilus nacre.
    Collected by Alfred Cort Haddon in 1898 from Mer, Torres Strait.
    MAA Z 9765.
 
---
The saying: "You learn something new everyday", really does hold true for collections work and I thought I'd share some of my fun discoveries with you.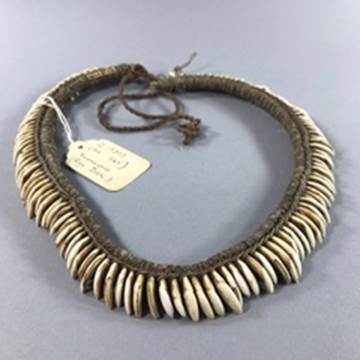 Necklace of tree kangaroo teeth, donated by
    Alfred Cort Haddon. Possibly from Torres Strait,
    late 19th century. MAA Z 9293.
---
I fell in love with the Anglo-Saxons the first time I visited the reconstructed village at West Stow.
   The Trumpington Cross. Gold
    and garnet cloisonné pectoral cross,
    with central roundel and flaring arms.
    7th century. Anglo Saxon. Trumpington
    Meadows, Trumpington, Cambridgeshire, UK.
    MAA 2017.58. Photography by Josh Murfitt.
---
The exhibition 
Tū 
te Whaihanga
: 
A
R
ecognition of 
C
reative 
G
enius open
ed
 at dawn on Monday 7
th
 October 
2019 
at the Tair
ā
whiti Museum, Gisborne, 
Aotearoa
 New Zealand
. It feature
d
 37 
taonga
 (
Māori 
ancestral treasures) traded and gifted with 
James Cook and the 
crew of
 the
Endeavour
and 
the Tahitian priest-navigator 
Tupaia during encounters 
in the 
Tair
ā
whiti 
area in 1769.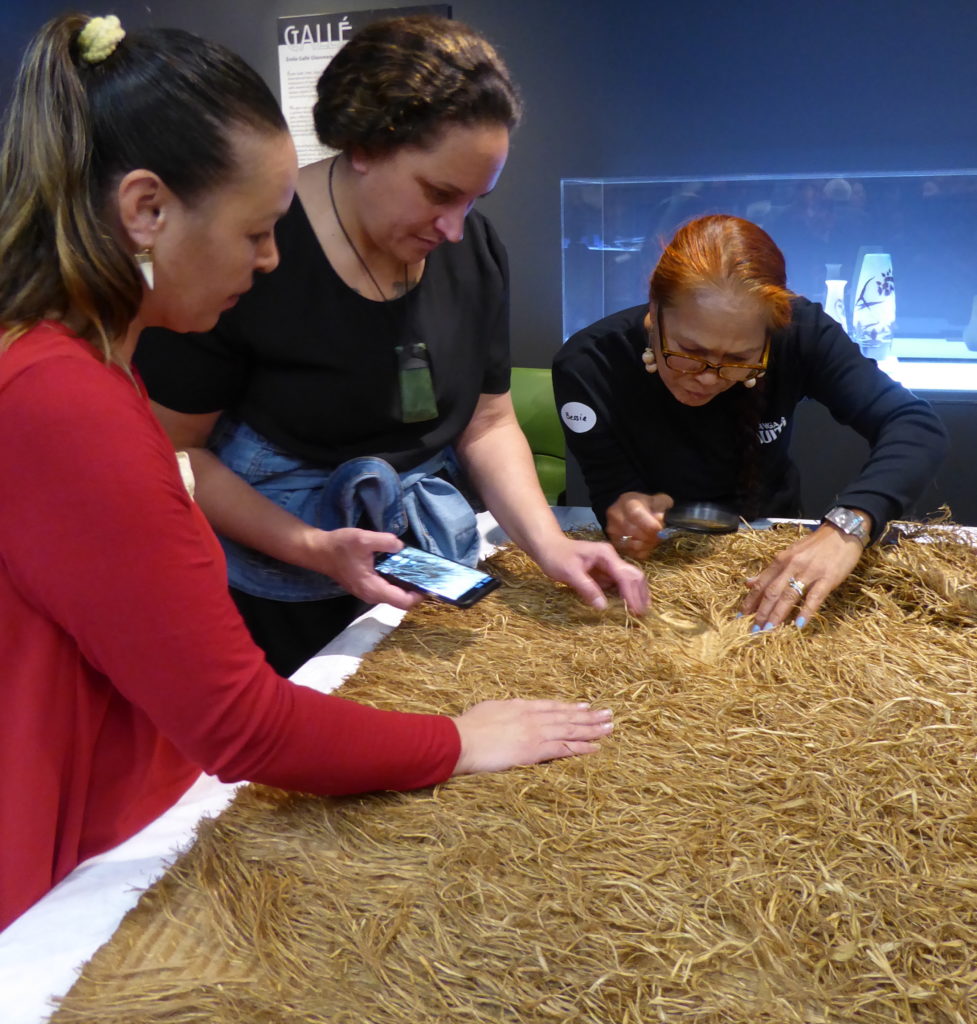 Weavers counted rows of warp and weft
    threads, relearning historic techniques.
  
---
The 250th anniversary year of explorer James Cook's arrival in Australia and Aotearoa, New Zealand has offered opportunities for MAA to reflect on the ways we work with Cook voyage collections.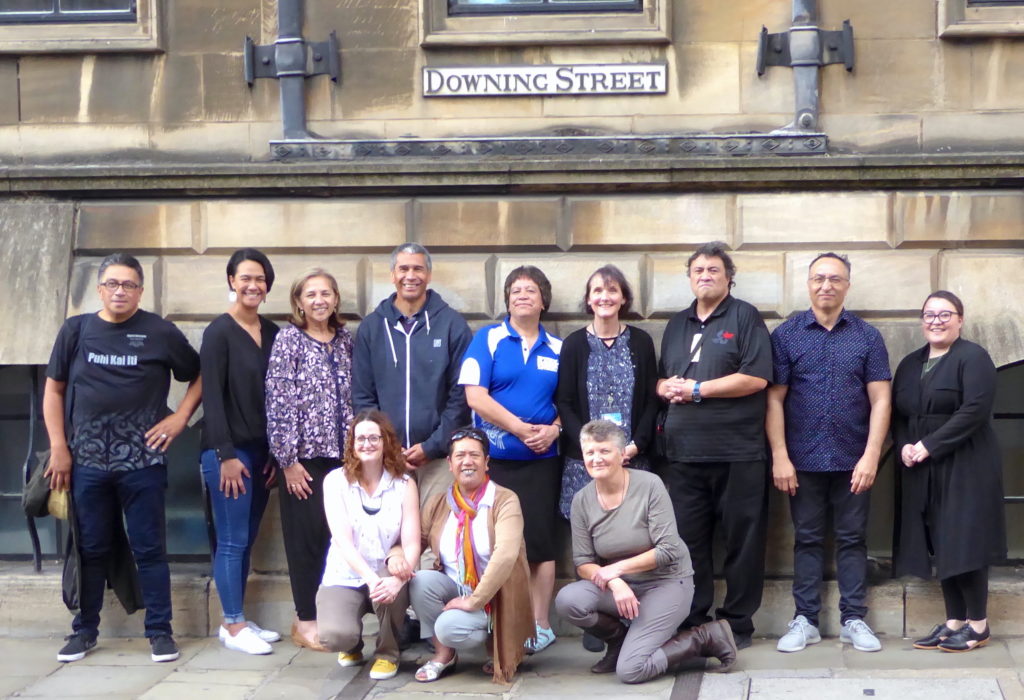 The delegation from Tūranganui-a-Kiwa
    (Poverty Bay) and Te Aparangi (Royal
    Society of New Zealand) in Cambridge,
    September 2019. L-R: Nick Tupara,
    Beth Tupata-Katene, Kahu Hotere,
    Parekura Brown, Moera Brown, Anita Herle
    (MAA Anthropology Curator), Taharakau Stewart,
    Jody Wylie, Staci Hare, (front) Rachel Hand
    (MAA Anthropology Collection Manager),
    Jennifer Pewhairang, Jody Toroa
 
---
The University of Cambridge Museums (UCM) have been running volunteer-led LGBTQ+ tours, Bridging Binaries, since December 2018.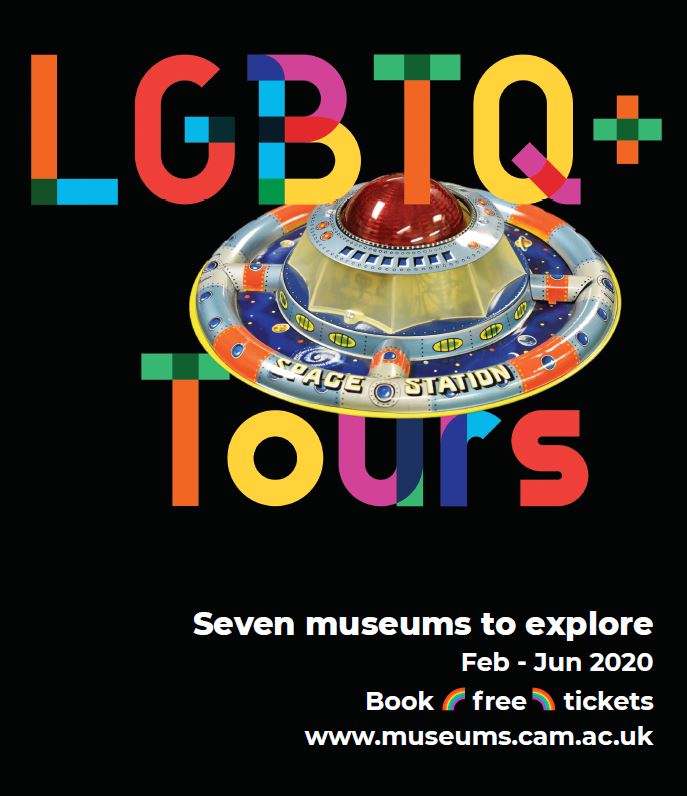 New marketing poster for 2020 LGBTQ+ tours
 
---
Conservators are often privy to some of the most exciting discoveries on individual objects within museum collections, since we work so intimately with them.

    The entire contents of the box (leggings,
    boots, socks, and mittens) after conservation.
    (Photos by author and Kirstie French)
---
Nellie-Mae Morgan has just received an unconditional offer to University. This is how she thinks UCM has helped.
---
What's in a label? by Eleanor Wilkinson (26 March 2020)
Sometimes we find objects in our store that have little or no known documentation – the object has in effect become 'lost'. Sometimes, however, museum staff are lucky enough to have an old label or mark on the object. But how can we build an object biography from old labels?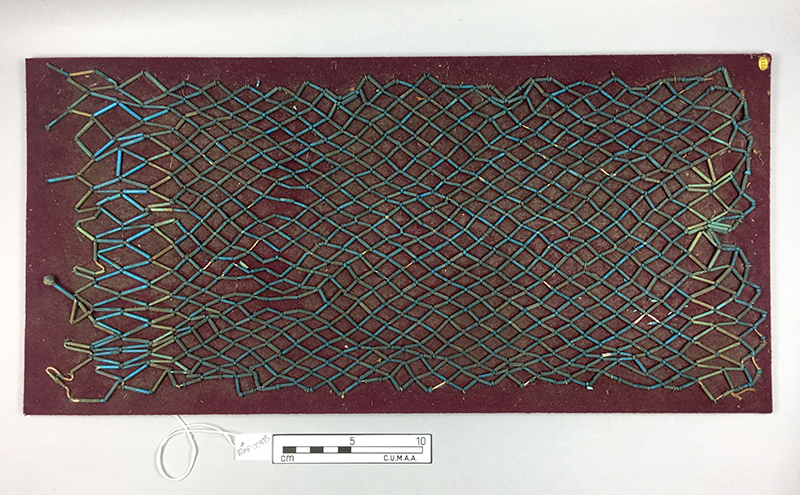 The mummy net from the Lady Meux
    collection still affixed to Lady Meux's
    display board, TEMP.00975.
 
---
Read on for a selection of autumn highlights from across the University of Cambridge Museums…
The acclaimed exhibition Oceania, a collaboration between the Royal Academy of Arts, London, and Musée du Quai Branly – Jacques Chirac, Paris, with the participation of MAA, continued on its tour to the Museum Volkenkunde, Leiden. It received over 250,000 visitors during its successful runs in London and Paris, including
5000 holders of passports from Pacific states and territories admitted free of charge.
---
"This exhibition is about love and sex; identity and censorship. It's also about labels, and why they matter."
---
In May and June, MAA and the Fitzwilliam Museum worked with Year 8 students from Cromwell Community College on a Bronze Arts Award project. The students explored stories of climate change through poetry and creative writing.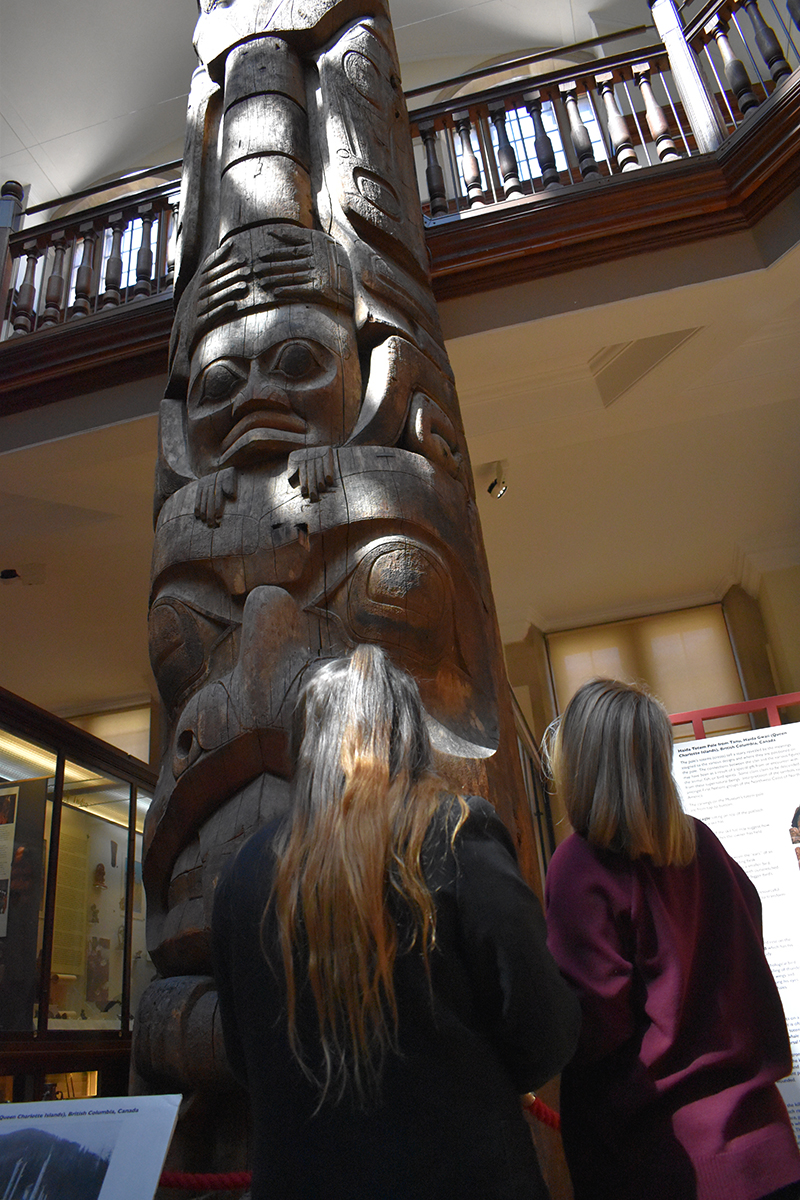 Students explore MAA's galleries
 
---
Nicholas Thomas, Director of MAA, was awarded an Established Researcher Award for his work on the landmark Royal Academy exhibition Oceania.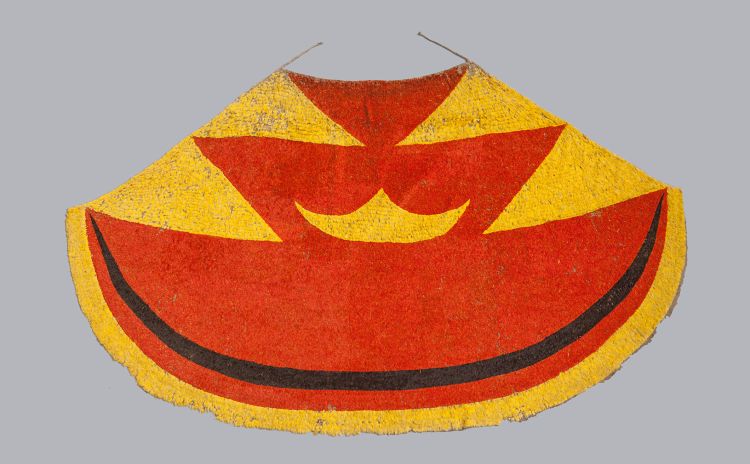 Ahu ula (feather cloak) belonging to
    Liholoho, Kamehameha II., 19th
    century. MAA. 1934.1159.
---
MAA houses outstanding collections from the Cambridgeshire region, but for much of this material little has been documented and photographed.

    Just some of the material from the extensive
    Iron Age burial at Snailwell, Cambridgeshire,
    consisting of ceramics, animal bones, toggles,
    and metal plating.
 
---
Romy Hall is a Pacific Currents volunteer at MAA, supporting the public engagement around the museum's redeveloped displays of objects from the Pacific Islands. Jenny Williams caught up with her to chat about her experience.

   
    Participants in Erub Arts' workshop show off
    their own ghost net sculptures
 
---
At the end of June, four students from North Cambridge Academy took part in a week long work experience opportunity with the University of Cambridge Museums.
---
In June, MAA welcomed artists from Erub Island in the Torres Strait, Australia. Erub Arts hosted two workshops for the museum on how to work with ghost nets (abandoned fishing nets).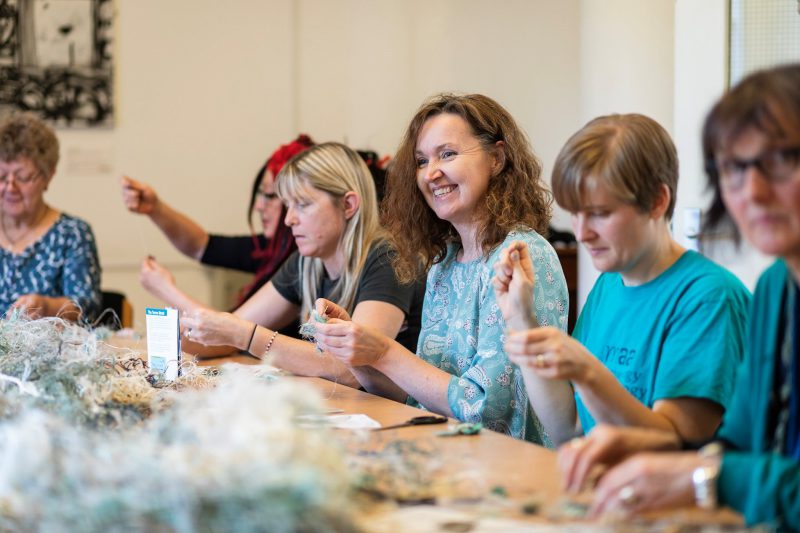 Making tiny turtles at the Teachers
    and Artists Workshop
 
---
On 31 March 2019, the Britten Sinfonia Academy, talented young instrumentalists from the east of England, went on a family-friendly musical tour exploring the stories behind the collections in the Museum of Zoology, MAA and the Fitzwilliam Museum.
---
Last year, MAA refurbished its Pacific Island cases thanks to a grant from the National Lottery Heritage Fund. An associated education programme has been increasing engagement with the new cases.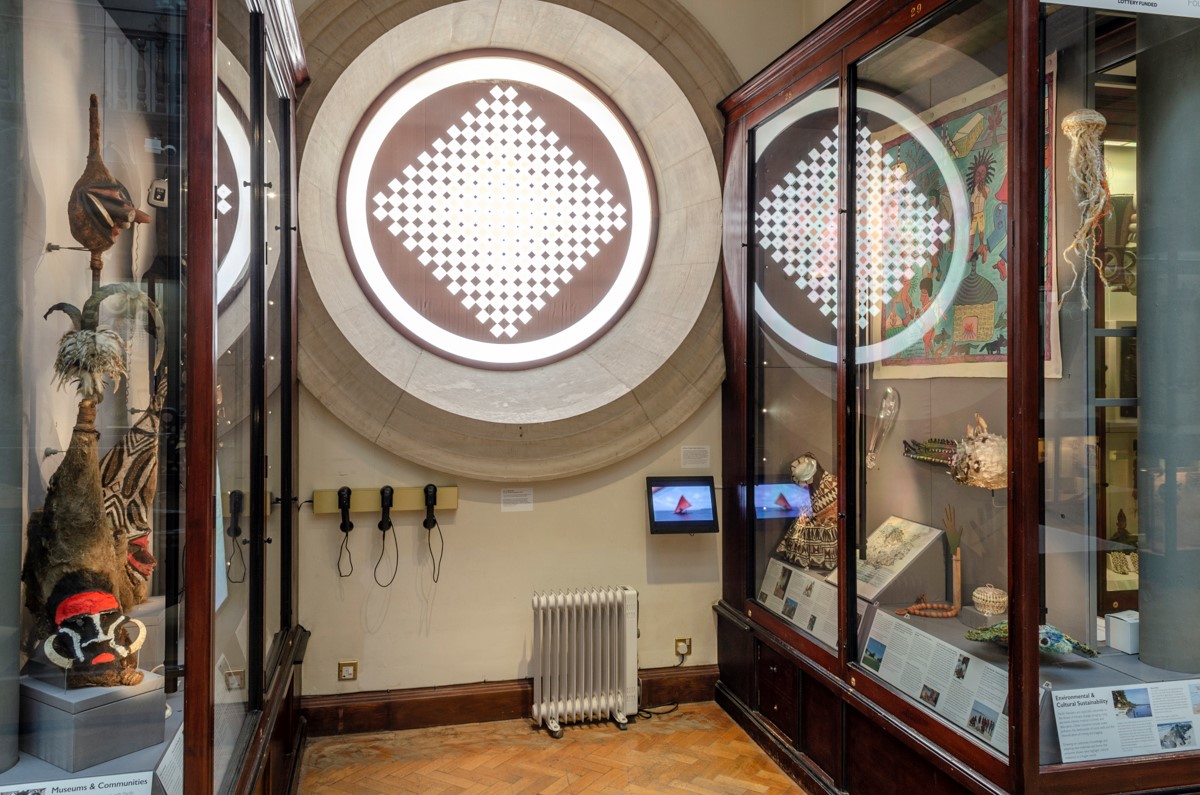 Some of the newly refurbished Pacific cases at MAA
 
---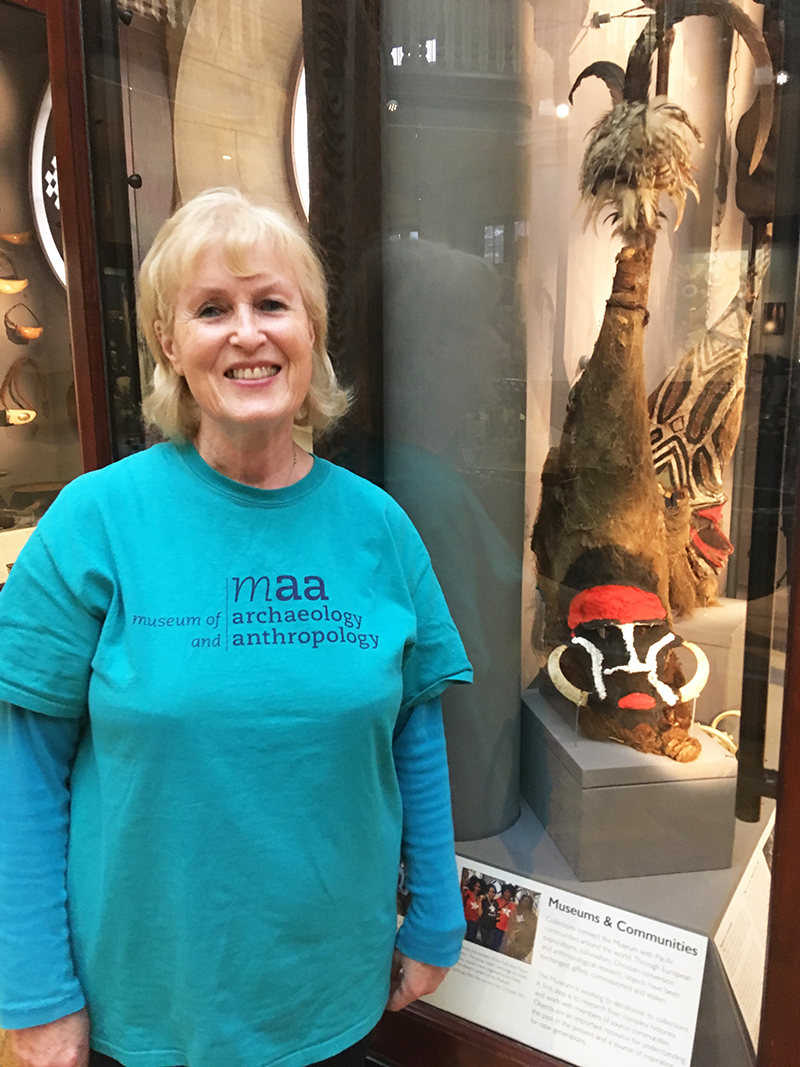 Gloria in the gallery
 
---
In October 2018, a new museum tour launched at MAA.  Untold Histories tours "tell you what the labels won't."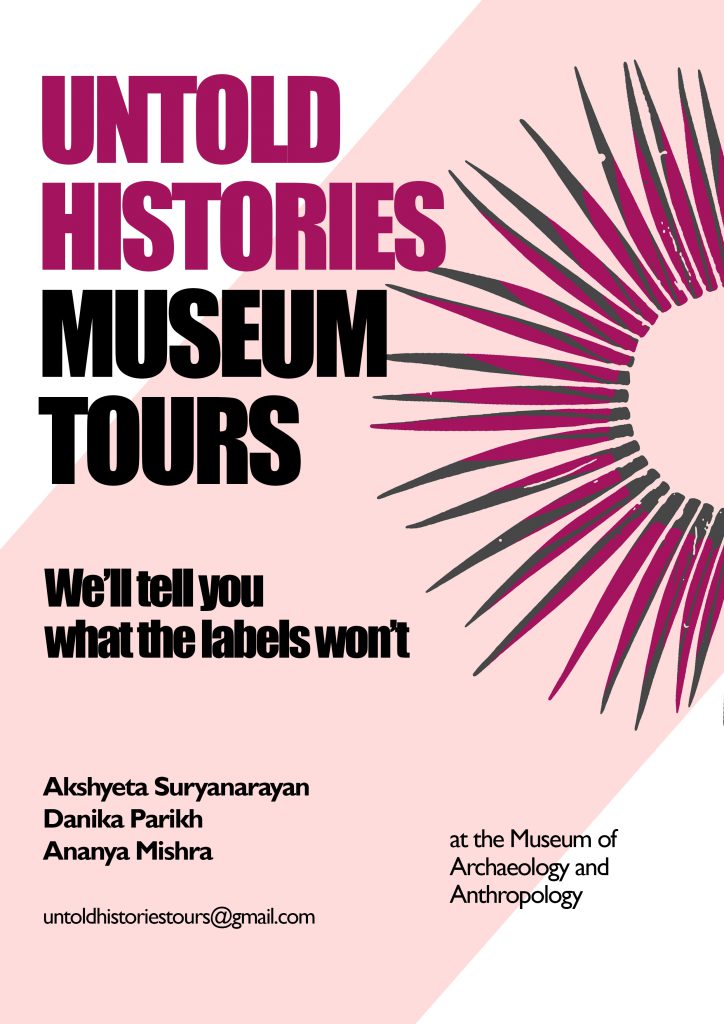 Untold Histories poster
---
Operation Survival, by Jenny Bull and Rosie Amos (25 October 2018)
What can our museums contribute to audiences understanding issues about the environment? Find out about the work behind our new puzzle solving team-game, Operation Survival.

   
    Players puzzle out last year's game,
    Cambridge Codebreakers: the Last Secret
 
---
Arts on Prescription, by Jacqui Strawbridge (15 October 2018)
Two University of Cambridge Museums, MAA and the Fitzwilliam Museum, are working in partnership with Cambridgeshire charity Arts and Minds to create Arts on Prescription courses and sessions, as part of a project supported by the Heritage Lottery Fund.
---
Mindfulness is about being completely aware of the present moment. We wanted to see how mindfulness could impact and maybe even improve a museum visit.
---
The University of Cambridge Museums have a long-term partnership with local charity Centre 33's Young Carers project, supporting the young people's engagement with our collections for over ten years. This year, for the first time, we led sessions across the county as well as within our museums.
---
University of Cambridge Museums Work Experience
---
The Green Museums project explores environmental themes across the University of Cambridge Museums (UCM). Our objects hide a history of how we have understood the environment and the problems it now faces, deep in their archives and in the objects in plain sight.

    This Whale bone plaque in MAA is thought to have been
    used as an ironing board during the Viking period.
---
In April 2018, MAA welcomed world-leading experts who studied and discussed some of the manifold textile treasures hold in the collections of the museum.
    Archaeology Collections Manager Imogen Gunn welcomes
    the group of researchers and discusses the textile collections
    of MAA with Giorgio Riello (Warwick), Abigail Gomulkiewicz
    (Cambridge), Ulinka Rublack (Cambridge), Suraiya Faroqhi
    (Istanbul), Chris Wingfield (Cambridge), Diana DiPaolo Loren
    (Harvard), Malika Kraamer (Leicester), and Beatriz
    Marín-Aguilera (Cambridge).
 
---
With support and input from families and professionals dealing with autism on a daily basis, MAA has been working on a project to become more accessible to those on the autistic spectrum. This blog post explores the importance of, and the journey to, becoming more autism accessible.
---
Siblings of children supported by East Anglia Children's Hospices visited the Fitzwilliam Museum, MAA, and the Museum of Zoology to explore collections, create art, have fun and take time for themselves.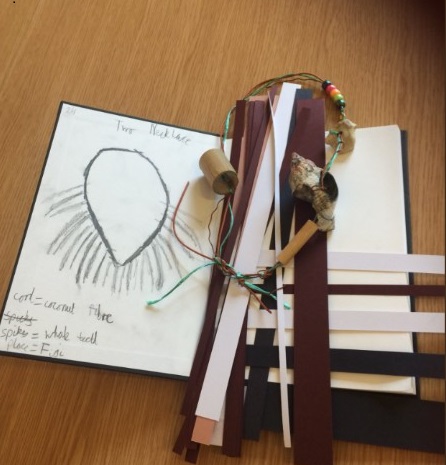 Necklace-making during the EACH Sibling Days
 
---
Peel back the layer of the artwork, and you'll find the creative work of artist collective non zero one and their collaborator Sheila Ghelani, as explored on this blog. And below that, academic research in the museum's galleries carried out by Danika Parikh, Akshyeta Suryanarayan and Ananya Mishra; and Malavika Anderson, University of Cambridge Museums Cultural Programmer, who originally commissioned the project.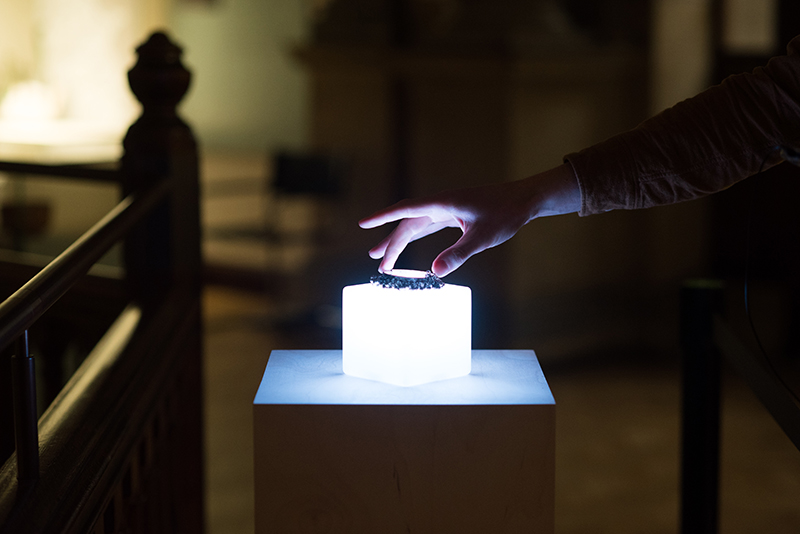 take-hold invites you to take hold of an
    object on display in the gallery
 
---
Games researcher Sofia Romualdo reports on the gameplay experience of location-based game Cambridge Codebreakers: The Last Secret.
---
Last week on the blog, we discussed the development of our live adventure game Cambridge Codebreakers: The Last Secret. Now it's time to hear from the game developers who helped make it happen.
---
How do you run a live action adventure game across four museums? As Cambridge Codebreakers: The Last Secret comes to an end for now, Digital Engagement Specialist Ina Pruegel reflects on the project.
---
Climate Hack 2018, by Charlotte Connelly (14 February 2018)
How would you change one of our museums to tell stories about climate change? That was the question we posed to 24 people who participated in our first ever Climate Hack.
---
As part of the India Unboxed season, the University of Cambridge Museums commissioned

non zero one

to develop a digital encounter at MAA.
---
It's a tiny object, but it made big headlines this month. The Trumpington Cross, an extremely rare piece of Anglo-Saxon jewellery, was excavated in 2011 at Trumpington Meadows just outside Cambridge. Now the landowners, Grosvenor, have gifted it to MAA, where it's on display.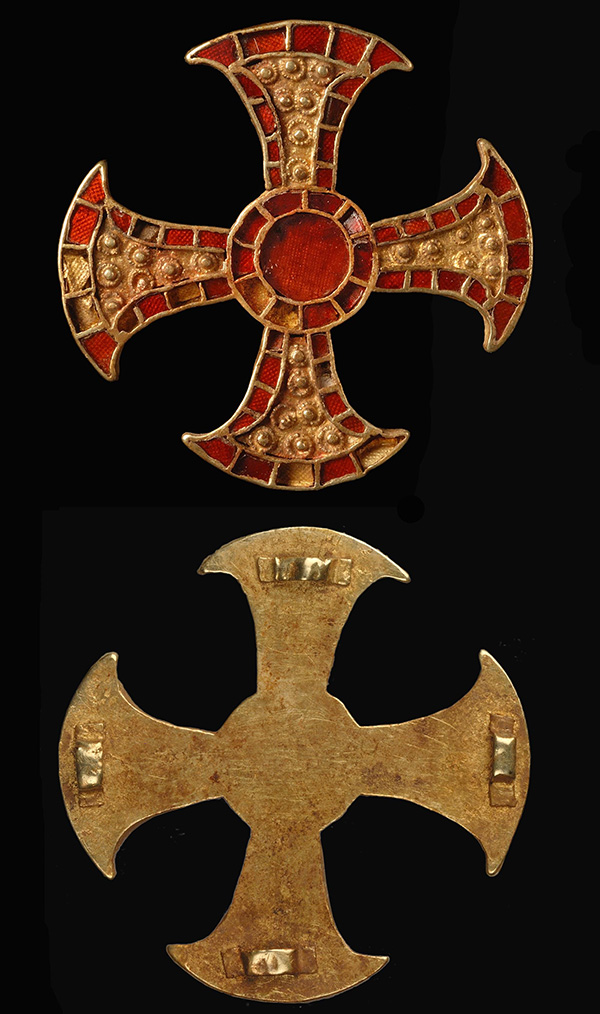 Front and back views of the Trumpington Cross.
    7th century. Anglo Saxon. Trumpington
    Meadows, Trumpington, Cambridgeshire, UK.
    MAA 2017.58. Photography by Josh Murfitt.
---
In April 2018, as part of the Heritage Lottery Funded 'Pacific Currents' project, MAA will open refurbished display cases showcasing objects from across the Pacific.

   
    Visitors at the opening event for 'Island Warrior'.
    Photography by Josh Murfitt
 
---
Should cultural artefacts in museums around the world be returned to their places of origin? It's a hotly contested debate, and last week, during a three-day visit to Africa, French President Emmanuel Macron made a significant intervention.
---
At the beginning of October, I travelled to London for the first two days of the GEM Foundation Course in Museum Learning.
---
In October 2017, the Botanic Garden played host to the Festival of Light. One of the University of Cambridge Museums' most ambitious events to date, the free Festival was the culmination of the year-long India Unboxed season. A thousand-strong audience enjoyed an epic live performance by Talvin Singh, crafts and activities by the individual Museums and Emergency Exit Arts, and a spectacular light installation in the glasshouses by designers Studio Carrom.
---
In December 2016, Malavika Anderson began an Arts Council-funded placement with the University of Cambridge Museums team.
---
April is a Front of House Volunteer at MAA.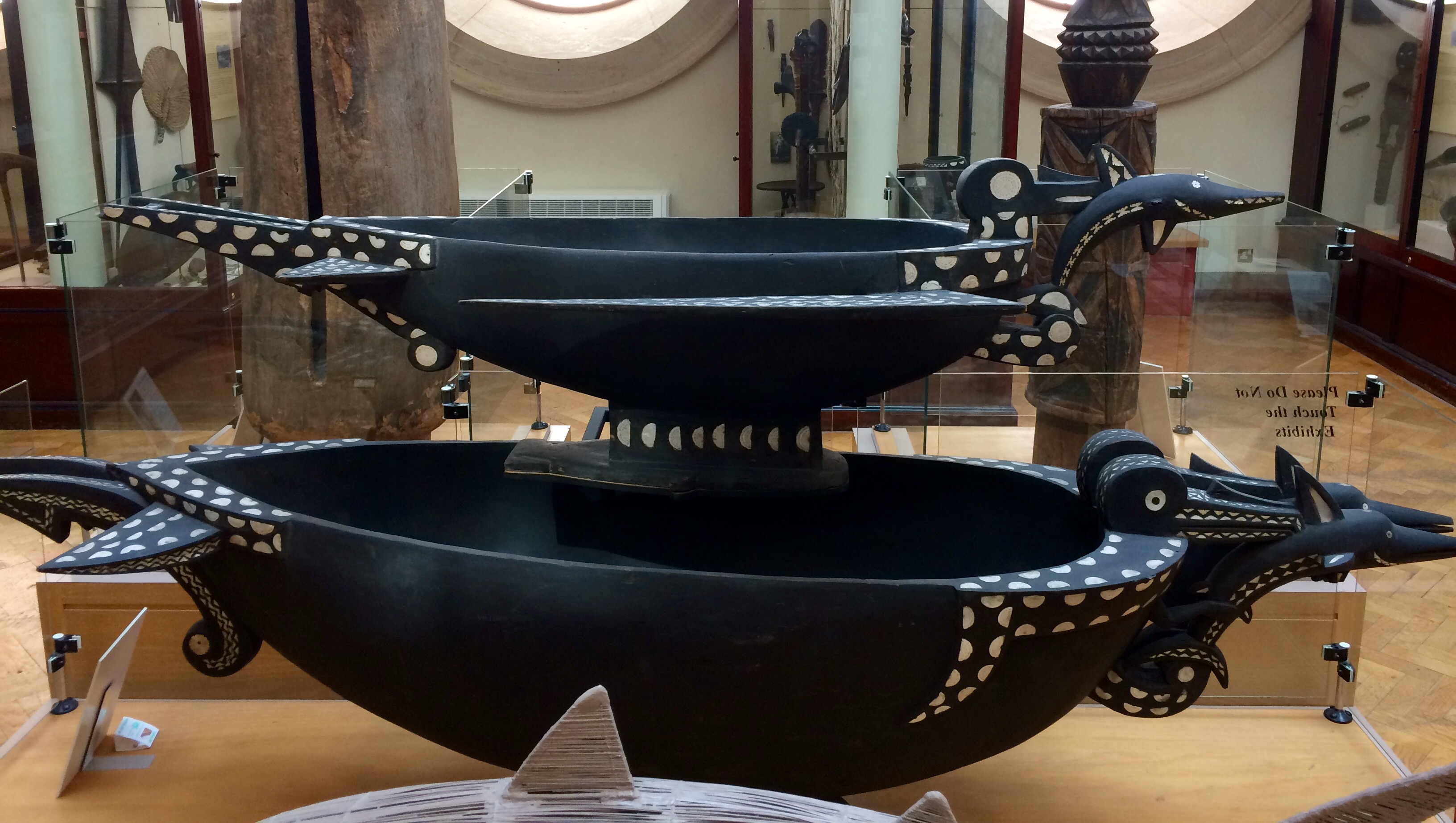 April's favourite objects –
    the Solomon Islands apira rafa 
    (food bowls).
---
Rhian Ward, a Conservation Student at Durham University, answers questions on her placement with the University of Cambridge Museums.
---
Recently the conservation lab at MAA has been a hive of activity with conservation students and project conservators. Here is one challenge we have tackled: the conservation treatment of a Papua New Guinea grass skirt.

    The fibre skirt from Papua New
    Guinea during treatment
---
In April MAA, in conjunction with the British Museum held a one-day workshop on Kiribati armour.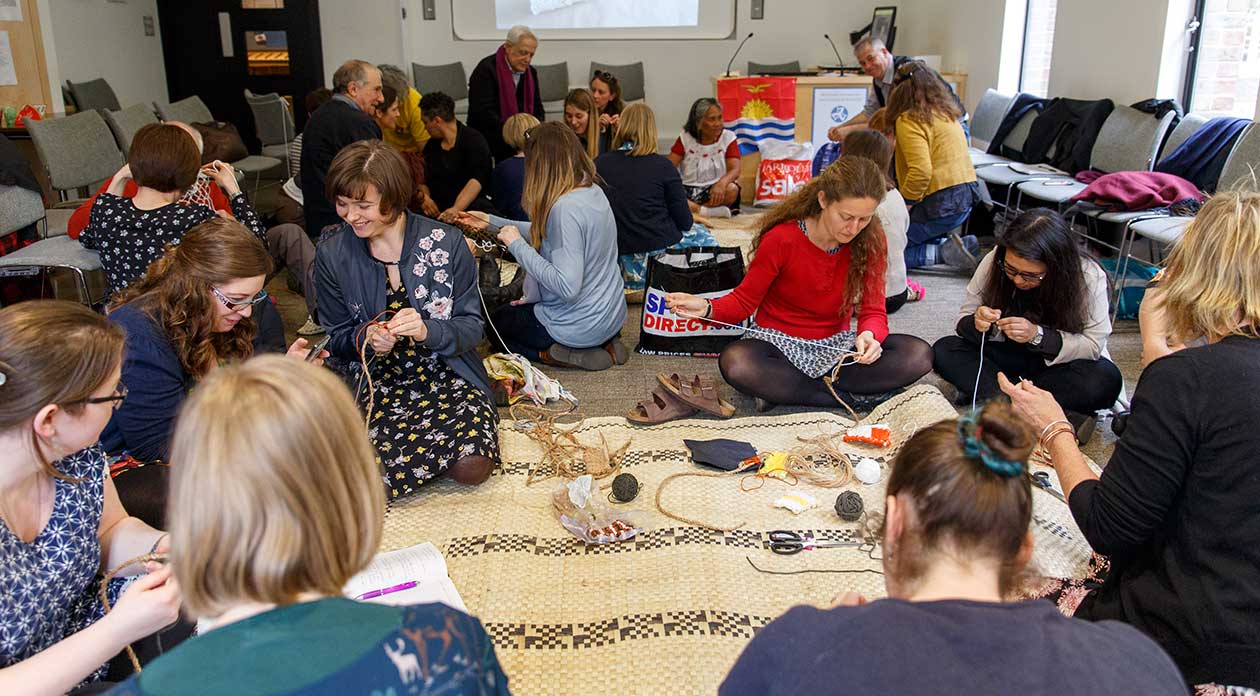 Participants in the MAA Kiribati weaving
    workshop
---
Once described as "the Oscars of the Eastern Regions Museum Industry"….. the third annual SHARE Volunteer Awards took place on 8 June 2017, hosted by the Museum of East Anglian Life in Stowmarket.
We were all thrilled when Kevin Hall was given an Outstanding Achievement certificate for his work at MAA.
---
The University of Cambridge Museums offer work experience placements for school-aged participants, providing the opportunity to spend a week learning new skills and developing their self-confidence, timekeeping and communication.
---
Flora Miles, Volunteer Gallery Attendant at MAA, shares three reasons why she loves volunteering.
---
A new Spotlight Gallery exhibition opening at MAA will highlight the benefits of interdisciplinary collaboration on museum collections, choosing a Kiribati suit of armour as its focus.
    Conservator Rachel Howie conserving the
    overalls, MAA Z 7034.
    Photography by Alison Clark, 2016.
 
---
...is everything really what it appears? When presented with a Kiribati shark-toothed sword, from MAA, decorated with braids of human hair, I started to think of ways I could interrogate these materials and find out what they really were.