A brand new, fully searchable online catalogue of the object, photograph and document collections cared for by MAA was launched in August 2020 and can be found at collections.maa.cam.ac.uk.
---
The material in the museum is organised into a number of key areas:
---
The Museum's catalogues include historic descriptions and representations that are factually inaccurate, racist and otherwise inappropriate. We are committed to the work of addressing hurtful legacies in the collections we care for. We ask for your help in identifying images or data that cause offence or harm, and we welcome your feedback or suggestions which can be sent to feedback@maa.cam.ac.uk
---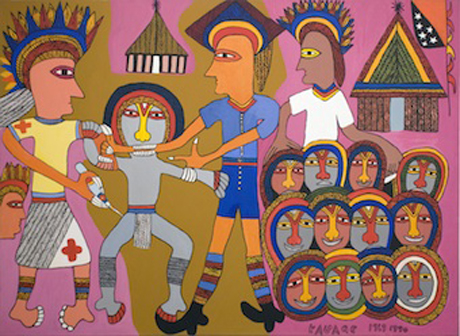 'Biting the Doctor's Arm' by Mathias Kauage, 1990. MAA 2010.364
This artwork portrays the artist's own resistance to having an injection while a child in Papua New Guinea, as well as the encounter between colonial Australian medics and Melanesian children.
Kauage was one of Papua New Guinea's first internationally famous artists.